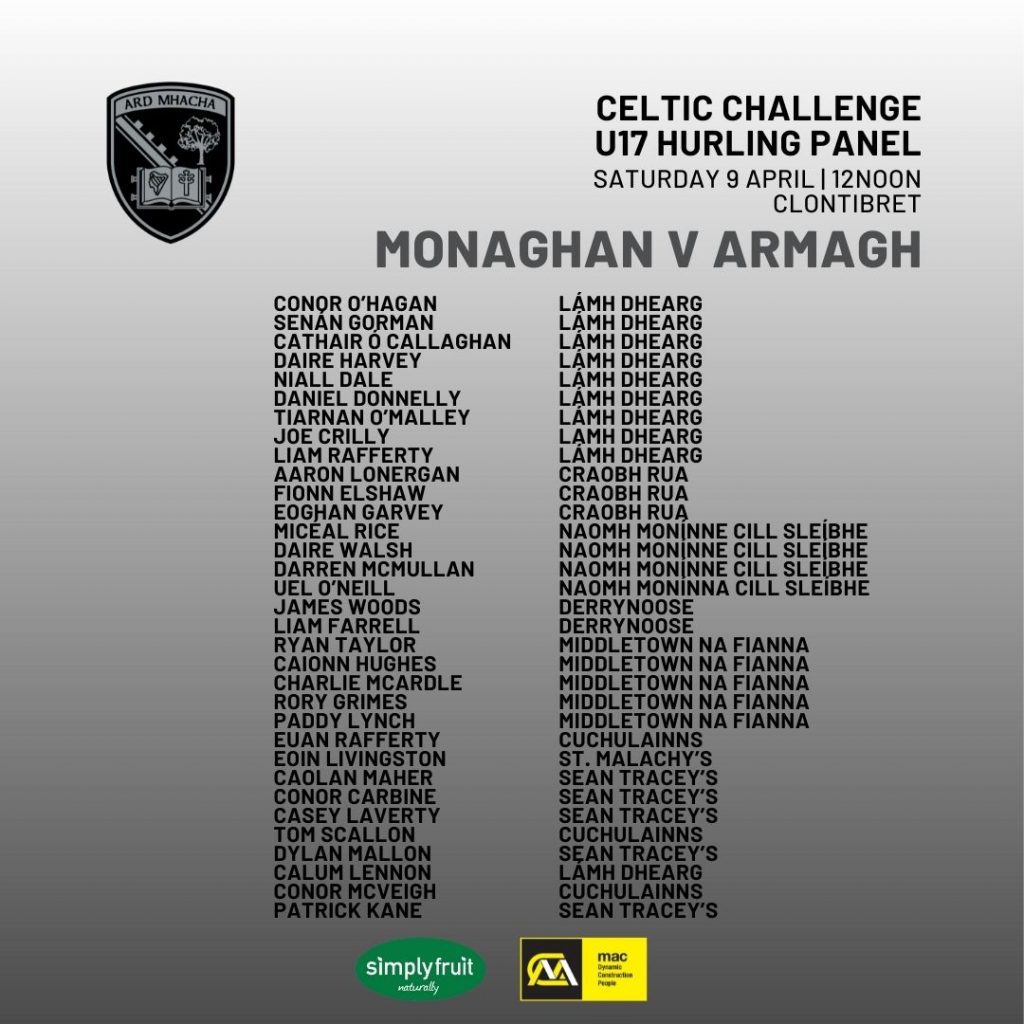 Armagh U17 hurlers get their Celtic Challenge campaign underway on Saturday 9th April against Monaghan. The game will be played in Clontibret with throw-in at 12noon.
The management team have named their panel for the forthcoming season, and we wish them well in the upcoming competitions.
Management team: Miceál Murphy, Damian Kirk, Gerard Murphy, Patrick Murphy and David O'Brien.
| | |
| --- | --- |
| Name | Club |
| Conor O'Hagan | Lámh Dhearg |
| Senán Gorman | Lámh Dhearg |
| Cathair Ó Callaghan | Lámh Dhearg |
| Daire Harvey | Lámh Dhearg |
| Niall Dale | Lámh Dhearg |
| Daniel Donnelly | Lámh Dhearg |
| Tiarnan O'Malley | Lámh Dhearg |
| Joe Crilly | Lamh Dhearg |
| Liam Rafferty | Lámh Dhearg |
| Aaron Lonergan | Craobh Rua |
| Fionn Elshaw | Craobh Rua |
| Eoghan Garvey | Craobh Rua |
| Micéal Rice | Naomh Monínne Cill Sleíbhe |
| Daire Walsh | Naomh Monínne Cill Sleíbhe |
| Darren McMullan | Naomh monínne Cill Sleíbhe |
| Uel O'Neill | Naomh Monínna Cill Sleíbhe |
| James Woods | Derrynoose |
| Liam Farrell | Derrynoose |
| Ryan Taylor | Middletown Na Fianna |
| Caionn Hughes | Middletown Na Fianna |
| Charlie McArdle | Middletown Na Fianna |
| Rory Grimes | Middletown Na Fianna |
| Paddy Lynch | Middletown Na Fianna |
| Euan Rafferty | Cuchulainns |
| Eoin Livingston | St. Malachy's |
| Caolan Maher | Sean Tracey's |
| Conor Carbine | Sean Tracey's |
| Casey Laverty | Sean Tracey's |
| Tom Scallon | Cuchulainns |
| Dylan Mallon | Sean Tracey's |
| Calum Lennon | Lámh Dhearg |
| Conor McVeigh | Cuchulainns |
| Patrick Kane | Sean Tracey's |